Best Spray Foam Insulation R Value: Insulation is given an R-value based on how well it stops heat from moving through it. Because it has more thermal resistance, something with a higher R-value insulates better. The value rating is based on the type of insulation, its density, thickness, temperature, and humidity of the home's location, and how time affects the structure and how well it works (aging). It's important to know the difference between the different kinds of insulation and the R-value you want for the space you're insulating.
The Best R Value Of Spray Foam Insulation
The R-value per inch of spray foam insulation is the greatest of any insulating material, making it a great choice for both commercial and domestic applications. Spray foam, when applied by experts, fills and seals specific areas, and its high R-value substance and great air seal deliver superior performance compared to goods like fiberglass, which must be put significantly thicker or packed loosely and settles with time.
As an illustration, consider modern puffer jackets, which, in contrast to the bulky, heavy parkas of yesteryear, combine highly efficient insulating fill with high-performance wind-blocking fabrics to create thin, lightweight, exceptionally warm comfort.
Like the coat you choose to wear, the optimal R number for insulation depends on the time of year, the local climate, and the position of the insulation, therefore there is no such thing as a "best" R-value. When deciding what R-value in spray foam insulation you need, you should consider where it will be used and how often it will be exposed to moisture. The entire R-value you require from spray foam can be estimated with some help from local construction codes, architects, and builders.
Factors to Consider When Choosing Spray Foam Insulation
When looking for the best spray foam insulation with the highest R-value in 2023, there are a few important factors to consider. Here are some of the most important ones:
Cost: Spray foam insulation can be one of the more expensive insulation options on the market, so it's important to factor in the cost of the product and installation when making your decision. Consider what type of budget you're working with and research different brands to get the best bang for your buck.

Climate: Depending on where you live, the climate of your home is an important factor to consider when choosing spray foam insulation. If you live in a hotter climate, opt for a closed-cell spray foam that offers better air-sealing capabilities than open-cell foam.

Energy efficiency: Higher R-values mean more energy efficiency, so look for spray foam insulation with an R-value of at least R-6 or higher. This will ensure that your home is properly insulated against heat loss and drafts.

Application: Think about where you plan to use your spray foam insulation and consider how it will be applied. There are several methods for applying spray foam, so make sure to choose one that works best for your needs.
By taking into account these factors, you'll be able to make an informed decision about which type of spray foam insulation is best for your home. With the right information, you'll find the best spray foam insulation R-value in 2023 that fits your needs and budget.
A Spotlight On Some of The Best Spray Foam Insulation R Value of 2023:
Froth-Pak 210 Spray Foam Insulation Kit
Spray foam insulation is a two-part polyurethane foam that can produce up to 210 square feet of finished foam by filling in gaps, fissures, and expansion joints. Useful for soundproofing and insulating stud walls, crawl spaces, attics, and chilly floors above unheated rooms.
The Insulation Spray Foam Kit is the best dispensing system on the market, and it is also very configurable. This means that you can count on a constant flow rate, accurate ratios, and full product dispensing every time.
Roof and wall junctions; wall and attic penetrations; electrical, mechanical, and plumbing penetrations; fissures or crevices in the building envelope are just some of the many places this material finds use.
Pros:
It went well. Very simple to set up and use.

The electricity bill went down by $35 per month.

This foam is easy to use and works well, but most people can't afford it because of how much it costs.

This was used to insulate a duct that didn't have insulation before. Saved time and worked great, very happy with the results.
Cons:
In less than a minute, the nozzles became clogged.
GREAT STUFF PRO Window & Door 20 oz Insulating Foam Sealant

If you're installing windows, doors, or skylights and you're not using great stuff Window & Door foam sealant, you probably don't know of a faster, cheaper way to seal air leaks. In fact, some window and door companies have tested great stuff Window & Door and given it their stamp of approval. 
It is a low-pressure foam that doesn't expand much and makes a strong seal between a window or door frame and its rough opening. It does this without bowing or bending the window frames. It was the first thing to stop draughts from windows and doors.
The great stuff pro-Series Dispensing Gun, which is sold separately, is needed to use this. Specially made to seal off air leaks between a window or door frame and its rough opening.
Low-pressure foam that doesn't grow much and won't bend or bow a window or door frame. It sticks to vinyl, wood, and metal frames in a way that keeps out air and water. One 20-ounce can of foam cleans 15–18 average-sized windows.
Pros:
Fantastic product that performs exceptionally well.

The substance for the spray is excellent.

This foam is very user-friendly and performs really well.
Cons:
Spraying foam into a hole in the basement ceiling didn't work.
Vega Bond Purplecoat 12 Pack Insulation Spray Foam
Improved Formula Covers 240 board feet. Traditional building insulations like fiberglass batts and rolls, blow-ins, insulation boards, glass wool, and rock wool have been replaced by a new, innovative product.
The R-value per inch is 5.66, and the thermal insulation value is 0.025 W/ (m.K). Easy to use on uneven and hard-to-reach surfaces like the roof, facade, attic, ceilings, foundation, etc.
As the insulation goes all the way around the studs, it stops heat from escaping through thermal bridging. Can also be used on the body of a car, a trailer, an RV, a shed, a boat, a kayak, or a vessel.
The unique formula makes an airtight seal on most building materials, like wood, brick, stone, concrete, metal, drywall, glass, MDF, OSB, etc.
Pros:
It's a great product. Easy to put on and does a good job.

In a crawlspace, it wasn't hard to use. Well covered the area, grew, and dried quickly.

Everything you need is in the kit, which is great.

Both the gun and the cleaner worked perfectly.
Cons:
Does not spray very effectively at all.
Seal Spray Foam High-Performance Closed Cell Insulating Foam Can Kit 
The performance of two-component foam in a single can that is simple to use. Each can contains 27.4 ounces of product and coats roughly 25 board feet.
A method that is both quick and simple to use, this will help you save money on your monthly energy bills. Direct application is possible by simply screwing the spray nozzles that come with the can into place.
When compared to big format two-component kits sold by competitors, costs significantly less while providing the same amount of coverage measured in board feet.
Because of its modest form factor and compact design, less material is wasted on smaller projects, there is no need to dispose of large tanks, and it is simple to transport.
R-Value: 4.37 per inch thick layer, several users are able to spray at the same time as opposed to bigger format two-component tanks, which only allow one user to spray at a time.
Pros:
The gun is nice, has a good spray pattern, and covers pretty well.

A seal coat is a nice thing.

The product worked perfectly to seal the holes around an overhead door frame that was letting water in.

This product was great for insulating between wall studs because it covered well and fit well.

This works so much better with a metal gun that can be used more than once. It's easy to spray and easy to clean up
Cons:
The Cans are insufficient to cover a substantial area.
Akfix 2K Fence Post Expanding Concrete Foam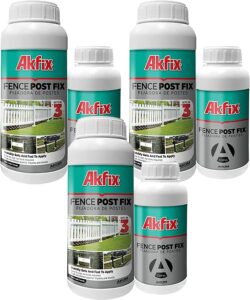 Akfix Fence Post makes your life easier because it is quick and easy to shape, mold, and adjust when you follow clear instructions. No other materials are needed to make the concrete foam that grows. There is no need for extra water or mixing tools. Everything you need is included in the kit.
Pour, stir, and you're done! Check to see if there is any standing water in the hole before you pour the product. After that, pour part A into part B. Shake the bowl for 20 seconds. Just before the mixture starts to expand, pour it into the hole. Don't forget to support the post properly while it is drying.
Our alternative concrete foam is a two-part, high-density polyurethane foam that is used to set fence posts, anchors, gates, mailboxes, flagpoles, deck posts, football, volleyball, soccer, tennis posts, birdhouses, bollards, clotheslines, satellite dishes, and more into the ground.
The unique foam composition of liquid cement mix is rapid, light, strong, and rises in volume once mixed. Can be used inside and outside, both in the summer and in the winter.
It's easy to use because it only has a few basic parts. You only need to put the two ingredients together the way it says. Our waterproof expanding foam makes a clean place to work without the need for extra materials.
Pros:
This expandable foam is great for putting fence posts in place so that you don't have to wait until the next day to fix your fence.

Still, the product works perfectly, and you only need one fence post to finish.

This came together in seconds and holds well.

More solid and sturdy than you might think. 
Cons:
The post gap allows water to enter between the post and foam, weakening stability.
Conclusion
When it comes to insulation, the higher the R-Value, the better. As you have read in our Best Spray Foam Insulation R Value 2023: Reviews + Buying Guide, you can find the best spray foam insulation with the highest R-value to keep your home or building insulated and comfortable. It is important to consider the factors listed above before choosing your insulation in order to ensure you are making the right choice for your needs. With the right information, you can make an informed decision and find the best spray foam insulation R-value in 2023.